artistic director and choreography
Anne-Sophie Fenner born 1965 in Switzerland made her dance studies at London Contemporary Dance School and the CH-Tanztheater Schule in Zürich.  Her first contract as a dancer brought her to a small theater in Vevey /CH where she danced with "déjeuner sur l'herbe" Dir. Francois de Grandi, for one year. After this first professional experience, she went to New York for  further dance-studies. There she studied with Ruth Currier, Alan Danielson (Limon Technique), Milton Meyers (Alvin Ailey, Horton technique) and at the Cunningham school. She also immersed herself in  several Improvisation- and Somatic Techniques, such as Body Mind Centering and Developmental Technique (Mary Overlie), Kinetic Awareness (Elaine Summers and Frances Becker), Improvisation (Nina Martin, Mary Overlie, Steve Paxton, Nancy Stark Smith) and Flying Low with David Zambrano. Back in Zürich she danced as a freelance dancer many years in several independent companies in Zürich: Fumi Matsuda, Roger Merguin, Somafon and Tamuté. For ten years she was in the faculty of "Zürich Tanz Theater Schule" where she taught Limon-based Moderndance and Contemporary Technique in the professional program.
2005 she founded her own dancecompany  'flowingdance'.  Since the foundation of her company, Anne-Sophie Fenner has created seven evening-length programs and several short pieces. 2017 the name of the company was changed to 'tanztheater compagnie anne-sophie fenner'. 2007-2009 she returns to  New York to study at the Limon Institut and created the work 'passage bleu' with dancers from New York. The piece was premiered at the Cunningham Studio in May 2009. September 2009 she returns to Zürich and continues her work as a freelance choreographer with her own company and also as a guest choreographer for other companies.
Music is a very important inspiration for her artistic work. 2007 she created a piece to the music of Swiss Jazz musician Nik Bärtsch.  The lyrical compositions of Swiss Violinist Tobias Preisig inspired her 2012 for  'espaces blancs' with nine dancers. 2014 she collaborated with Michael Boner and Pascal Piller, 'Marvin Guitar Duo'  for 'Vol d'Oiseaux'. In her new production 'Diary of a Hermit', a violin, a voice and an accordeon are part of the choreography. 
Repertoire flowingdance/tanztheater compagnie annesophiefenner:
2006 Zenit / 2006 Fallen zwischen Licht und Schatten / 2007 Roads from the Inside / 2008 Eclaircie/ 2009 passage bleu/ 2010 passage bleu II / 2011 cycles & circles research / 2012 espaces blancs / 2014 vol d'oiseaux/ 2015 Innere Reisen / 2016 Passiflora / 2017 Diary of a hermit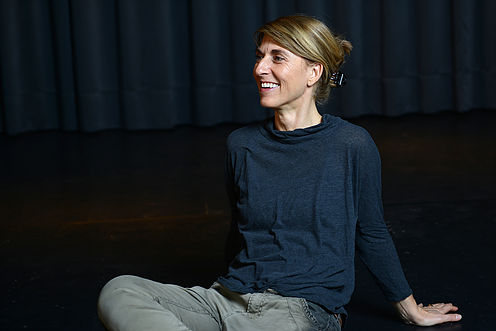 " I believe that if we are truthful in our motivation to move, dance communicates in a most direct way to the audience and can connect to the kinetic sense of the human being and thus set free emotions... "
 "Anne-Sophie Fenner's work is always purely dance-based. Nevertheless she loves to collaborate with other arts such as actors and musicians. Her work persuades us because it is carefully researched and brought to scene on a very high level of professionalism of all participants. Her works mirror her interest for philosophy, literature and holistic sciences. Her search to be truthful in the expression is what fascinates us when we see her work. Her chorepgraphies don't scream about the injustice in the world, the society or politics - No - she chooses instead to silently encourage us to shift our awareness towards a different direction - towards silence, towards looking within - towards starting with our own emotions, towards the beauty of life itself. The voice and dance-expression of Anne-Sophie Fenner can be placed in the neighborhood of the Limon Technique, which is her home, but is strongly influenced by her experience in Improvisation and somatic bodywork. Since she always incorporates the dancers and their own voices into the choreographic creation process there is no way to put a label on her dancepieces. This allows her to offer us strong, visionary and space-taking choreographies that satisfy our yearning for Dance, Emotion and beauty  in a fascinating way" – Sinikka Jenni, Zürich